الشيخ داود بن الباخلي / داود بن ماخلا
d. 732/735 H. (1331 CE) in Alexandria
.
﷽

English
Sayyidi Dawud b. Makhila (Al-Bakhili) (d. 732/1331)
From: Kuhin: Tabaqat Al-Shadhiliyyah Al-Kubra, translated by Ahmad Ali al-Adani as "Biographies of Prominent Shadhilis"
He is the succour of the elect, the qutb of saints, the great imam, and the illustrious scholar. He is the spiritual guide who trained novices and guided wayfarers to the Presence of the Divine. He is Sidi Sharaf al-Din Abu Sulayman Dawud b. Makhila al-Iskandari al-Shadhili, also known as al-Bakhili. [1]
He was a scholar steeped in knowledge and was among those with far-reaching impact on matters. He had the upper hand when it came to disposal of affairs in creation.
Despite being unlettered, he possessed mastery in both the outward and inward sciences. He authored extraordinary books, elucidating Sufi states, secrets, sciences and stations. They include 'Uyun al-Haqa'iq and al-Latifat al-Mardiyya fi Sharh al-Du'a' al-Shadhiliyya. He also wrote a commentary on Imam al-Shadhili's Hizb al-Barr (also known as Al-Hizb al-Kabir – The Grand Invocation), and Hizb al-Bahr.
At the beginning of his affair, he was a police officer who served at the governor's residence in Alexandria. Sitting opposite the governor, the shaykh would share a gesture with him so he may infer the accused's guilt or innocence. If he hinted that the accused was innocent, the governor would acquit him and pardon him, but if he hinted the opposite, the governor would exact retaliation against the accused and treat him accordingly.
He was an ascetic who applied scrupulousness in matters of the din. Saints blossomed in his courtyard the way crops sprout forth from the earth. It should suffice us as an indicator to his virtues that his student was Sidi Muhammad Wafa al-Shadhili. Had nothing else been recorded in his favour, this would have been enough.
He died in Alexandria in about AH 730 [2] His mausoleum attracts visitors. The daily prayers take place in his mosque.
0 Allah, benefit us by love for him, and make us tread his spiritual path, amin.
---
Footnotes:
[1] See his biography in al-A'lam (2/333) and in Tabaqat al-Shadhiliyyat al-Kubra by Muhyi al-Din (p. 146).
[2] In al-A'am (2/333) and Kashf (p. 661), the year of his death is given as AH 732.
عربي
1. From Imam al-Sha'rani:
Al-Tabaqat al-Kubra
(PDF) –
View
|
Download
2. From Kuhin:
Tabaqat al-Shadhiliyya
:
View book
|
Download
|
Chapter [28]
(
see below
)
---
[28] الإمام الكبير سيدي داود بن ماخلا([1])
(…- حوالي 735)
غوثُ الأصفياء، وقطبُ الأولياء، الإمام الكبير، والعالم الشهير المُسلِّكُ مُرّبي المريدين، وموصلُ السالكين سيدي شرف الدين أبو سليمان داود بن ماخلا الإسكندري الشاذلي رضى الله عنه.
كان من العلماء الراسخين المتمكنين، ومن أصحاب الدوائر الكُبرى، له اليد العليا في التصريف.
وكان جامعًا بين علمي الظاهر والباطن، مع أنه كان أُمِّيًّا، وله مؤلفات عجيبة شرحَ فيها أحوالَ القوم، وتكلَّمَ على أسرارهم وعلومهم ومنازلاتهم منها كتاب «عيون الحقائق» ومنها كتاب «اللطيفة المرضية في شرح دعاء الشاذلية»، وله شرح على «حزب البر» وآخر على «حزب البحر».
وكان رضى الله عنه في بدايته شرطيًّا ببيت الوالي بالإسكندرية، وكان يجلسُ تجاه الوالي، وبينهما إشارةٌ يفهمُ منها وقوع المُتَّهم أو براءته، فإن أشارَ إليه أن المُتَّهمَ برئٌ برَّأَهُ، وعفا عنه، وإن أشار له غير ذلك اقتصَّ منه، وعامله بما يستحقُّه.
وكان رضى الله عنه زاهدًا ورعًا، وكانت الأولياء تنبتُ بساحته كما تُنبتُ الأرض الزَّرعَ، ويكفينا في مناقبه أنَّ تلميذه سيدي محمد وفا الشاذلي، ولو لم يكن له غيرُ ذلك لكفى.
توفي رضى الله عنه بالإسكندرية عام نيِّفٍ وثلاثين وسبع مئة، وله مقامٌ يُزار، ومسجدٌ كبيرٌ تُقام فيه الشعائر. اللهم انفعنا بمحبته، واسلك بنا على طريقه. آمين.
([1]) داود بن عمر بن إبراهيم الشاذلي المالكي، أبو سليمان الإسكندري: من فقهاء المالكية، متصوف وفاته بالإسكندرية سنة 732هـ من كتبه «كشف البلاغة» و «شرح الجمل» للزجاجي، و «مختصر التلقين» [«الأعلام» (2/333)].
Photos
t.b.d.
Video
Books
Sh. Dawud b. Makhila: "Al-Latifatu al-Mardiyya fi du'a al-Shadhiliyya"
اللطيفة المرضية بشرح دعاء الشاذلية
شرح سيدي داود بن ماخلا على حزب البحر للإمام أبي الحسن الشاذلي رضي الله عنهما.
وهذا الشرح اعتد به الإمام السيوطي ونقله عنه وأثنى عليه وعلى مؤلفه في رسالته في الاقتباس المثبتة بمجموع فتاواه المسمى الحاوي في الفتاوي.
For sale at abjjad.com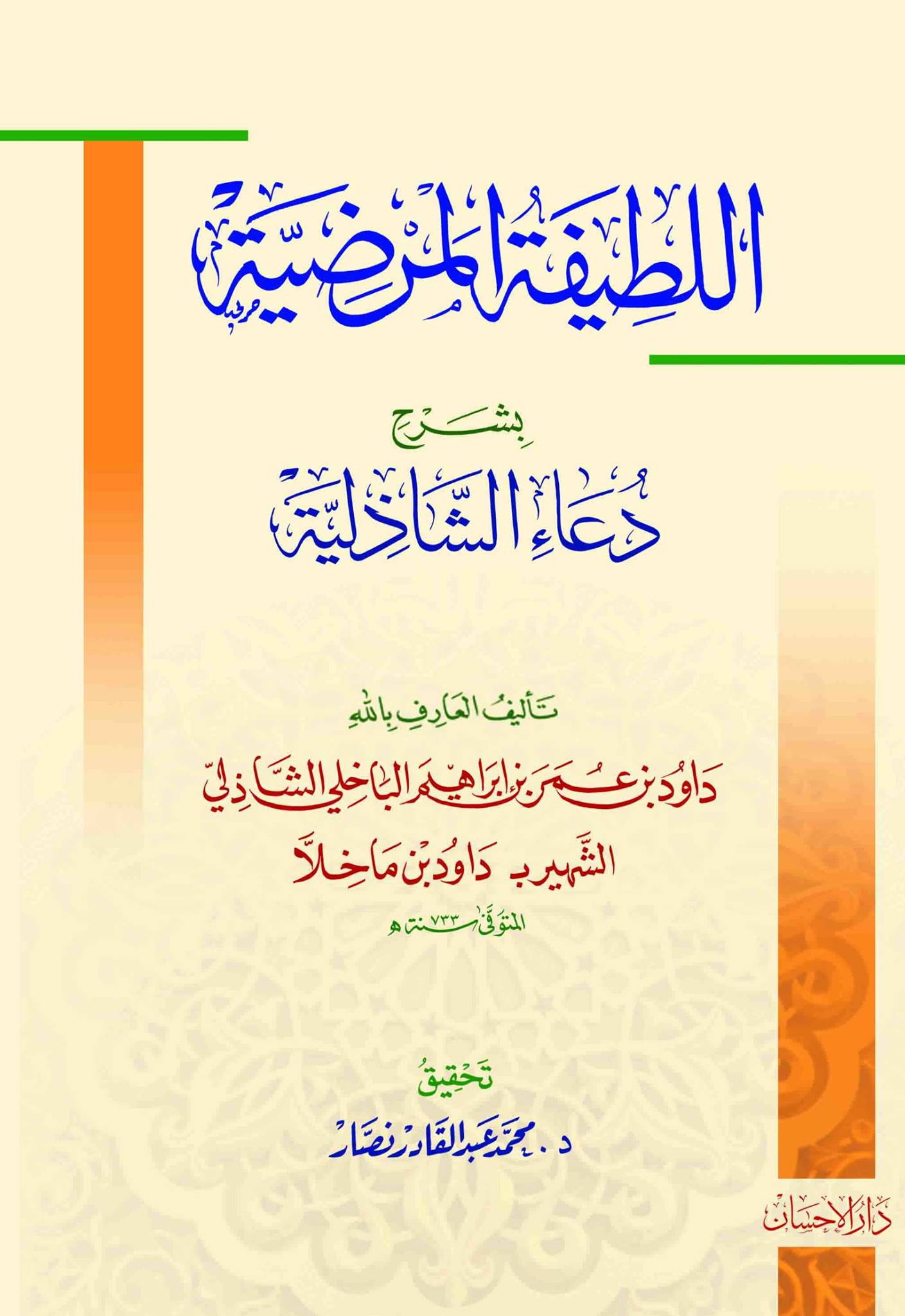 اللطيفة المرضية بشرح دعاء الشاذلية
لعل هذا الكتاب هو أول الشروح المؤلفة على حزب البحر للإمام أبى الحسن الشاذلى فلا يعلم شرح سابق عليه . وهو أوسع هذه الشروح وأطولها من حيث النفس العلمى . ومؤلفه هو رابع خلفاء سيدى أبى الحسن الشاذلى إذ تلقى الطريق عن الإمام العارف ابن عطاء الله السكندرى كما أنه شيخ العارف الكبير السيد محمد وفا شيخ البيت الوفائى الشهير .
وقد وصفه الإمام الشعرانى فى ترجمته بالعارف الكبير وهو جدير بهذا الوصف , كما يعلم من كتابه الفريد عيون الحقائق الذى سبق لنا نشره محققا لأول مرة . وقد احتوى هذا الشرح الجامع على تحقيقات علمية نادرة تشهد لمؤلفه برسوخ القدم فى العلم والمعرفة الصوفية.
نشر سنة 2015
Alternative edition: abjjad.com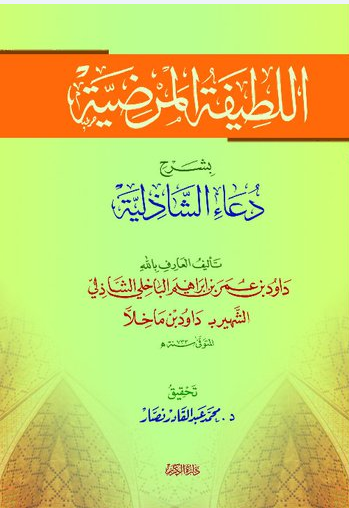 تراث شرح الأوراد الصوفية والتعليق عليها تراث في غاية الخصب والثراء، وهو كغيره من مناحي الثقافة الإسلامية الأصلية مبعث فخر للأمة المحمدية، يشهد بما في هذا الدين المشرف من حق وحقيقة ومشارع مفتوحة علي الرحمة الإلهية الإختصاصية التي لا تتيسر إلا لمن نظر الله سبحانه بعين الرضا والقبول والعناية والشمول.
ومن بواكير هذه الشروح هذا الشرح المنير لحزب البحر الشهير، بل لعله أبكرها علي الإطلاق، هذا الشرح المنيف علي حزب سيدي أبي الحسن الشاذلي المعروف بحزب البحر، فلا يحضرني في هذا المقام أي شرح لورد من الأوراد الصوفية سابق علي هذا الشرح.
وريادة هذا الشرح المبارك لا تقتصر علي سبقه الزماني، بل تمتد إلي سماته كتأليف من حيث عمق المعالجة للقضايا التي يطرحها نسق الحزب أو يوردها عليه المعترضون. وقد أبان فيه العلامة اللغوي النحوي الفقيه المالكي الصوفي الشاذلي الأستاذ الكبير سيدي داود بن باخلا عن نفس طويل ونظر عميق في تناول قضيتين مهمتين في الحزب مما قد يعترض به علي الحزب وقائله، وهما: قضية الاقتباس في القرآن، وقضية سؤال العصمة.
وقد جاءت معالجة سيدي داود قدس الله سره للقضيتين من الدقة العلمية والتوسع في التحري وتلمس الأدلة بحيث إن إماماً جامعاً مثل الإمام جلال الدين السيوطي يعتمد علي كلام الإمام في فتواه في المسألة في كتابه المعروف "الحاوي للفتاوي"
---
Sh. Dawud b. Makhila: "'Uyun al-Haqa'iq""
عيون الحقائق
For sale at : abjjad.com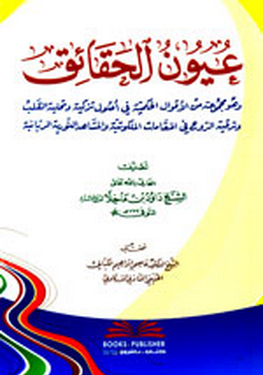 (وهو مجموعة من الأقوال الحكمية في أصول تزكية وتحلية القلب)
تأليف داود بن عمر بن إبراهيم الباخلي الشاذلي/داود بن ماخلا (تأليف) عاصم إبراهيم الكيالي (تحقيق)
Categories: Bionotes, Books by Author, Shadhili Silsila 🞄 🞄 Mediatype: Audio / Video / Images, Biography, Book 🞄 🞄 Tags: 🞄 Post type: page 🞄 🞄
---
Related Posts