Category:
Books by Author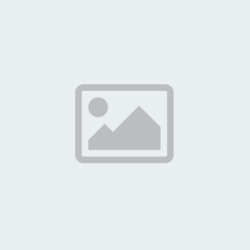 أبو عبد الله محمد بن علي بن الحسين الترمذي
d. 320 H.
may Allah be pleased with him
﷽
A great sufi
English
…
عربي
صحب أبو عبد الله بن الجلاء وأحمد بن خضرويه
Books
His most famous book is اثبات العلل about the hikma of the Shari'a
كتب المصنف بالموقع
اثبات العلل
Booklist on archive.org
مكتبة الحكيم الترمذي
1- إثبات العلل
2- أدب النفس
3- الامثال من الكتاب والسنة
4- الحج وأسراره
5- المنهيات
6- تحصيل نظائر القران
7- ختم الأولياء
8- رياضة النفس
9- سيرة الاولياء – جواب المسائل التي سأله أهل سرخس عنها – جواب كتاب من الري
10- غور الأمور
11- كتاب الإحتياطات
12- المسائل المكنونة
13- بيان الفرق بين الصدر والقلب والفؤاد واللب
14- نوادر الأصول في معرفة أحاديث الرسول:
https://archive.org/details/nwaderasoal
Burial Place
…
More
…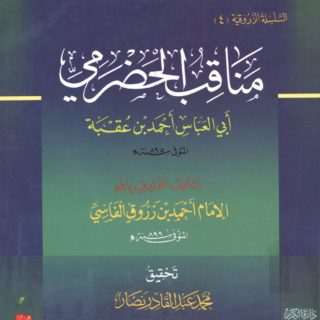 الشيخ أحمد بن عُقبَة الحضرمي
b 857 – d. 895 H. (1489 CE) in Cairo
﷽
His Shaykh in the Shadhili Path was Sayyidi Sh. Yahya al-Qadiri (from the Wafa'i Masters).
He passed on the Tariqa to Sayyidi Sh. Ahmad Zarruq.
– may Allah sanctify their secrets

English
Sidi Abu'l-'Abbas al-Hadrami
(d. 895/1489)
From: Kuhin: Tabaqat Al-Shadhiliyyah Al-Kubra, translated by Ahmad Ali al-Adani as "Biographies of Prominent Shadhilis"
He is the proof of gnostics, the shaykh of those who have arrived, the imam of instruction, and the mentor of worshippers and ascetics. He is the qutb and ghawth who was endowed with the faculty of disposal in matters, the member of the supreme circle, the imam of imams, and the succour of this Community. He is the great saint and renowned luminary, Sidi Taj ad-Din Abu'l-´Abbas Ahmad b. ´Uqba al-Hadrami al-Yamani al-Wafa'i, may Allah Most High purify his lofty secret.
He conjoined between law and ultimate reality, and was a person of tremendous spiritual unveiling [kashf]. Magnificent wonders and splendid norm-breaking occurances came to pass for him. He was from the folk of the impregnable secret and the ghawth of his age, disposing over all existent.
His birth took place in the land of Hadramawt. He moved to Cairo in Egypt and took it up as his place of residence. He acquired knowledge of the Sufi path and received the lights of ultimate reality from his guide and mentor Sidi Mawlay al-Sharif Abu al-Siyadat Yahya al-Qadiri b. Wafa b. Sayyidi Shihab al-Din Ahmad b. Wafa, the son of the great qutb Sidi Abu'l-Tadani Muhammad Wafa.
Sayyidi Yahya, the noble scion [sharif] was from those regaled with divine bounty in abundance, and enjoyed acceptance by the elite and the commonality, clearly articulating and making plain what lay in the loci of intellection and comprehension. He was endowed with a Muhammadi station. Sayyidi Yahya — may Allah be pleased with him and may He please him — passed away on Wednesday, 8 Rabi' II 857 H., and was buried next to his brother in the section reserved for his ancestors, our masters Banu al-Wafa. O Allah, benefit us by them and make us actualize the truth by following them submissively.
After Sidi Abu'l-´Abbas had taken the path from his spiritual guide, a mystical illumination was granted to him. As a result, people approached him and sought blessing by sitting in his presence. His followers multiplied and his benefit spread.
He was wont to attend the circles of knowledge of scholars, and they, in turn, attended his, until he became the peerless savant of his age, in knowledge and action, and in Word and spiritual state alike.
What occured to his disciple, Sidi Ahmad Zarruq, is an example of the momentuous events and intuitions that transpired fort he shaykh. It took place when Sidi Ahmad Zarruq arrived from Morocco. Our master Abu'l-'Abbas said to his students, 'Let us go to Bulaq [1] to meet your Moroccan brother', to which they then set out and arrived at marina. There, they saw Ustadh Ahmad Zarruq alighting from the boat he had travelled on, and who then met with our master Abu'l-'Abbas. He informed the latter of what had occured to him in the company pf 'Abdullah al-Makki. [2] Our master Abu'l-'Abbas said to him: 'What you received from him was fine; there is no harm in that.' He then took Sidi Ahmad Zarruq with him to Cairo, instructed him in knowledge of Sufi covenants and litanies, and entered him into the solitary retreat [khalwa]. Sidi Ahmad remained therein for a number of days until our master Abu'l-'Abbas, while sitting in a circle of instruction with his disciples, stretched our his hand and screamed. He then instructed his students, saying, 'Go to your Moroccan brother, since the blind serpent has caused the solitary retreat to crush down on him.' (He said this is a reference to 'Abdullah al-Makki, who was a blind man.) His students hastened to the place our master Zarruq's retreat, and found the debris [of the building] upon him. They took him out safely from under the building, with nothing harmful befalling him by the permission of Allah Most High. The hand of our master Abu'l-'Abbas, however, broke in the process. He said to Zarruq, 'Allah rescued you from this blind bane, and he no longer has any authority ober you.' Our master 'Abdullah al-Makki had in fact stretched out his hand to dispose of our master Ahamad Zarruq from the city of Fez, out of his jealous attachment [ghayra] to him, and consequently wrecked the solitary retreat for him. Allah, however, delivered him through the blessing of our liege Abu'l-'Abbas, and guarded him from his former guide.
Many other saintly miracles and astonishing spiritual unveilings sprung forth from him.
Our master Abu'l-´Abbas al-Hadrami – may Allah be well satisfied with him – died in Cairo sometime after AH 800, and was laid to rest in the greater Shadhili graveyard. O Allah, support us and our dear ones by his spiritual sustentation and benefit us through him and his secrets, amin.
---
Footnotes:
[1] It is an area in Cairo, still known in our days by that name. It appears from the context of the speech that in that age it was regarded as being situated somewhere outside the city of Cairo itself as it was then known and understood.
[2] He was the one responsible for overseeing and guiding Zarruq's incipient steps in Sufism, back in Morocco. In other narrations of this story, which have slight variances, his former guide is called Muhammad al-Zaytuni. See Muhammad bin 'Askar's Dawrat al-Nashir.
عربي
1. From
Kuhin: Tabaqat al-Shadhiliyya
2. From
msobieh.com
---
1. From Kuhin: Tabaqat al-Shadhiliyya View book | Download | Read chapter [31] online
[31] سيدي أبو العباس الحضرمي (…- 857)
حجة العارفين، وشيخ الواصلين، إمام الإرشاد، وشيخ العباد والزهاد، القطب الغوث، المتصرف صاحب الدائرة الكبرى، إمام الأئمة، وغوث الأمة، الولي الكبير، والعلم الشهير سيدي تاج الدين أبو العباس أحمد بن عقبة الحضرمي اليمني الشاذلي الوفائي قدّس سره العالي.
كان رضى الله عنه جامعًا بين الشريعة والحقيقة، وكان من أهل الكشف الكبير، وله وقائع عظيمة، وخوارق عادات جسيمة، وكان من أهل السر المصون، وكان في زمنه غوثًا متصرفًا في جميع الموجودات.
مولده رضى الله عنه ببلاد حضرموت، وقدم مصر، فاستوطنها، وأخذ الطريقة، وتلقى أنوار الحقيقة عن شيخه ومربيه سيدي ومولاي الشريف أبو السيادات يحيى القادري بن وفا ابن سيدي شهاب الدين أحمد بن وفا بن القطب الكبير سيدي أبي التداني محمد وفا رضى الله عنه. وكان الشريف سيدي يحيى من ذوي الفضل الكبير، وكان له القبول الحسن عند الخاص والعام، معربًا عما في الأفهام، محمدي المقام.
وتوفي رضي الله عنه وأرضاه يوم الأربعاء ثامن ربيع الآخر سنة سبع وخمسين وثمان مئة، ودفن بمشهد أسلافه ساداتنا بني الوفا، بجانب أخيه، اللهم انفعنا بهم، وحققنا بالتبعية لهم.
وبعد أخذ سيدي أبو العباس رضى الله عنه الطريقة على شيخه المذكور فتح عليه، فأقبلت الناس إليه، وتبركوا بالجلوس بين يديه، وكثرت أتباعه وعم انتفاعه.
وكان يحضر مجالس العلماء، وتحضر العلماء مجلسه، حتى صار أوحد زمانه علمًا وعملًا، وحالًا ومقالًا.
ومن وقائعه العظيمة واقعته وكشفه في الواقعة التي حصلت لتلميذه سيدنا أحمد زروق رضى الله عنه، وذلك أن سيدنا أحمد زروق لما قدم من المغرب الأقصى، قال سيدنا أبو العباس لتلامذته: انزلوا بنا إلى بولاق؛ لملاقاة أخيكم المغربي. فنزلوا إلى بولاق، فأتوا إلى موضع مرسى المراكب، وإذا بسيدنا الأستاذ أحمد زروق نازلٌ من المركب، فاجتمع بمولانا أبي العباس، وأخبره بما وقع له مع مولانا عبد الله المكي، وما جرى له معه، فقال له سيدنا أبو العباس: لا بأس عليك منه، وأخذه معه إلى القاهرة، ولقنه العهود والأوراد، وأدخله الخلوة، فمكث أيامًا في الخلوة، وإذا بسيدنا أبو العباس كان جالسًا في حلقة من أصحابه، فمد يده، وصاح، وقال لتلامذته: امشوا لأخيكم المغربي؛ فإن الحية العمياء قد هدت عليه الخلوة، وقد كان مولانا عبد الله المكي هذا ضريرًا، فمشوا إلى الخلوة التي كان فيها مولانا زروق، فوجدوها مطبوقة عليه، فأخرجوه من تحت البناء سالمًا ما أصابه شيء بإذن الله تعالى، ويد مولانا أبي العباس قد انكسرت، فقال له: قد نجاك الله من هذه الآفة العمياء، ولم يبق له عليك تسلط، وقد كان مولانا أبو عبد الله المكي مد يده ليتصرف في مولانا زروق من مدينة فاس غيرةً منه، فهدم عليه الخلوة، فنجاه الله ببركة سيدنا أبي العباس، وحفظه منه.
وله كرامات رضى الله عنه كثيرة، ومكاشفات عجيبة.
توفي مولانا أبو العباس الحضرمي رضى الله عنه بمصر بعد الثمان مئة، ودفن بالقرافة الشاذلية الكبرى. اللهم أمدنا وأحبتنا بمدده، وانفعنا به وبأسراره. آمين.
---

2. From msobieh.com
سيدى أبو العباس الحضرمى
( … – 857 )
فى زيارة لمقابر المماليك بصحراء العباسية عثرت على مدفن صغير داخل مسجد وخانقاه ومدرسة السلطان برقون
وهو على يسار صحن المسجد من الداخل تجد قبتين كبيرة القبة التى على اليسار وفيها ثلاثة رجال أحدهما السلطان برقوق
وولدية ثم علىة اليسار للداخل الى هذا القبر تجد قبر صغير وهو قبر سيدى أبو العباس الحضرمى رضى الله عنه
والذى ذكره جدى النسابة حسن قاسم فى كتابه
حجة العارفين ، وشيخ الواصلين ، إمام الإرشاد ، وشيخ العباد ، والزهاد ن القطب الغوث ، المتصوف صاحب الدائرة الكبرى ، إمام الأئمة وغوث الأمة ، الولى الكبير ، والعلم الشهير ، سيدى تاج الدين أبو العباس أحمد بن عقبة الحضرمى اليمنى الشاذلى الوفائى قدس الله سره العالى .
كان رضى الله عنه جامعا بين الشريعة والحقيقة وكان من اهل الكشف الكبير ، وله وقائع عظيمة ، وخوارق عادات جسيمة ، وكان من أهل السر المصون وكان فى زمنه غوثا متصوفا فى جميع الموجودات .
مولده : رضى الله عنه ببلاد حضرموت ، وقدم مصر ، فاستوطنها ، وأخذ الطريقة ، وتلقى أنوار الحقيقة عن شيخه ومربيه سيدى ومولاى الشريف أبو السيادات يحيى القادرى بن وفا بن سيدى شهاب الدين أحمد بن وفا بن القطب الكبير سيدى أبى التدانى محمد وفا رضى الله عنهم وكان الشريف سيدى يحيى من ذوى الفضل الكبير ، وكان له القبول الحسن عند الخاص والعام ، معربا عما فى الافهام ، محمدى المقام .
توفى رضى الله عنه وارضاه يوم الأربعاء ثامن ربيع الآخر سنة سبع وخمسين وثمان مئة ودفن بمشهد أسلافه ساداتنا بنى الوفا بجانب أخيه ، اللم انفعنا بهم وحققنا بالتبعية لهم .
وبعد أخذ سيدى أبوالعباس رضى الله عنه الطريقة على شيخه المذكور فتح عليه ، فأقبلت الناس إليه ، وتبركوا بالجلوس بين يدية ، وكثرت أتباعه وعم انتفاعه .
وكان يحضر مجالس العلماء ، وتحضر العلماء مجلسه حتى صار أوحد زمانه علما وعملا وحالا ومقالا .
ومن وقائعه العظيمة واقعته وكشفه فى الواقعة التى حصلت لتلميذه سيدنا أحمد زروق رضى الله عنه وذلك أن سيدنا أحمد زروق لما قدم من المغرب الأقصى ، قال سيدنا ابو العباس لتلاميذته : أنزلوا بنا إلى بولاق ، لملاقاة أخيكم المغربى ، فنزلوا إلى بولاق ، فأتوا إلى موضع مرسى المراكب ، وإذا بسيدنا الأستاذ أحمد زروق نازل من المركب ، فاجتمع بمولانا أبى العباس وأخبره بما وقع له مع مولانا عبد الله المكى ، ما جرى له معه ، فقال له سيدنا أبو العباس ك لا بأس عليك منه ، واخذه معه إلى القاهرة ، ولقنه العهود والأوراد ، وأدخله الخلوة فمكث أياما فى الخلوة وإذا بسيدنا أبو العباس كان جالسا فى حلقة من أصحابه فمد يده ، وصاح ، وقال لتلامذته : أمشوا لأخيكم المغربى ، فإن الحية العمياء قد هدت عليه الخلوة ، وقد كان مولانا عبد الله ا لمالكى هذا ضريرا ، فمشوا الى الخلوة التى كان فيها مولانا زروق ، فوجدوها مطبوقة عليه ، فأخرجوه من تحت البناء ، سالما ما أصابه شىء بإذن الله تعالى ، ويد مولانا أبى العباس قد انكسرت ، فقال له : قد نجاك الله من هذه الآفة العمياء ، ولم يبق له عليك تسلط وقد كان مولانا أبو عبد الله المكى مد يده لتصبرف فى مولانا زروق من مدينة فاس غيرة منه ، فهدم عليه الخلوة ، فنجاه الله ببركة سيدنا أبو العباس وحفظه الله .
وله كرامات رضى الله عنه كثيرة ومكاشفات عديبة
توفى رضى الله عنه مولانا أبو العباس الحضرمى بمصر بعد الثمان مئة ودفن بالقرافة الشاذلية الكبرى ، الله أمدنا وأحبنا بمدده ، وانفعنال به وبأسراره ، آمين يارب العالمين
Photos
Book

الأصول البديعة والجوامع الرفيعة
تأليف أبي العباس أحمد بن زروق الفاسي المتوفى سنة 899هـ؛
تحقيق محمد عبد القادر نصار.
Book by Imam Ahmad Zarruq: Manaqib al-Hadrami
about his Shaikh, Sayyidi Ahmad b. 'Uqbah al-Hadrami
Series: السلسلة الزروقية؛ 4.
Publisher: القاهرة: دارة الكرز، 2008
Edition: ط1.
Description: 95ص؛ 24×17سم.
ISBN: 978-977-462-016-4.
Ref: Bookinfo | Darat al-Karaz, Twitter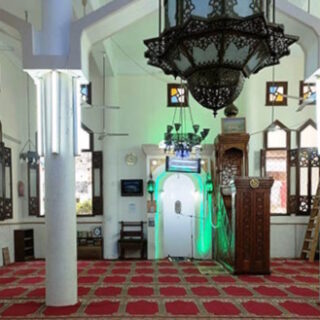 (الباخلي) الشيخ داود بن ماخلا
d. 732/735 H. (1331 CE) in Alexandria
.
﷽
He is Sidi Sharaf al-Din Abu Sulayman Dawud b. Makhila al-Iskandari al-Shadhili, also known as al-Bakhili. He took the Shadhili silsila from Sayyidi Shaykh
IbnʿAṭā' Allāh As-Sakandarī
, and passed it on to Sayyidi Shaykh
Muhammad Wafa
.
English
Sayyidi Dawud b. Makhila (Al-Bakhili) (d. 732/1331)
From: Kuhin: Tabaqat Al-Shadhiliyyah Al-Kubra, translated by Ahmad Ali al-Adani as "Biographies of Prominent Shadhilis"
He is the succour of the elect, the qutb of saints, the great imam, and the illustrious scholar. He is the spiritual guide who trained novices and guided wayfarers to the Presence of the Divine. He is Sidi Sharaf al-Din Abu Sulayman Dawud b. Makhila al-Iskandari al-Shadhili, also known as al-Bakhili. [1]
He was a scholar steeped in knowledge and was among those with far-reaching impact on matters. He had the upper hand when it came to disposal of affairs in creation.
Despite being unlettered, he possessed mastery in both the outward and inward sciences. He authored extraordinary books, elucidating Sufi states, secrets, sciences and stations. They include 'Uyun al-Haqa'iq and al-Latifat al-Mardiyya fi Sharh al-Du'a' al-Shadhiliyya. He also wrote a commentary on Imam al-Shadhili's Hizb al-Barr (also known as Al-Hizb al-Kabir – The Grand Invocation), and Hizb al-Bahr.
At the beginning of his affair, he was a police officer who served at the governor's residence in Alexandria. Sitting opposite the governor, the shaykh would share a gesture with him so he may infer the accused's guilt or innocence. If he hinted that the accused was innocent, the governor would acquit him and pardon him, but if he hinted the opposite, the governor would exact retaliation against the accused and treat him accordingly.
He was an ascetic who applied scrupulousness in matters of the din. Saints blossomed in his courtyard the way crops sprout forth from the earth. It should suffice us as an indicator to his virtues that his student was Sidi Muhammad Wafa al-Shadhili. Had nothing else been recorded in his favour, this would have been enough.
He died in Alexandria in about AH 730 [2] His mausoleum attracts visitors. The daily prayers take place in his mosque.
0 Allah, benefit us by love for him, and make us tread his spiritual path, amin.
---
Footnotes:
[1] See his biography in al-A'lam (2/333) and in Tabaqat al-Shadhiliyyat al-Kubra by Muhyi al-Din (p. 146).
[2] In al-A'am (2/333) and Kashf (p. 661), the year of his death is given as AH 732.
عربي
1. From Imam al-Sha'rani:
Al-Tabaqat al-Kubra
(PDF) –
View
|
Download
2. From Kuhin:
Tabaqat al-Shadhiliyya
:
View book
|
Download
|
Chapter [28]
(
see below
)
3. From
youm7.com
---
[28] الإمام الكبير سيدي داود بن ماخلا([1])
(…- حوالي 735)
غوثُ الأصفياء، وقطبُ الأولياء، الإمام الكبير، والعالم الشهير المُسلِّكُ مُرّبي المريدين، وموصلُ السالكين سيدي شرف الدين أبو سليمان داود بن ماخلا الإسكندري الشاذلي رضى الله عنه.
كان من العلماء الراسخين المتمكنين، ومن أصحاب الدوائر الكُبرى، له اليد العليا في التصريف.
وكان جامعًا بين علمي الظاهر والباطن، مع أنه كان أُمِّيًّا، وله مؤلفات عجيبة شرحَ فيها أحوالَ القوم، وتكلَّمَ على أسرارهم وعلومهم ومنازلاتهم منها كتاب «عيون الحقائق» ومنها كتاب «اللطيفة المرضية في شرح دعاء الشاذلية»، وله شرح على «حزب البر» وآخر على «حزب البحر».
وكان رضى الله عنه في بدايته شرطيًّا ببيت الوالي بالإسكندرية، وكان يجلسُ تجاه الوالي، وبينهما إشارةٌ يفهمُ منها وقوع المُتَّهم أو براءته، فإن أشارَ إليه أن المُتَّهمَ برئٌ برَّأَهُ، وعفا عنه، وإن أشار له غير ذلك اقتصَّ منه، وعامله بما يستحقُّه.
وكان رضى الله عنه زاهدًا ورعًا، وكانت الأولياء تنبتُ بساحته كما تُنبتُ الأرض الزَّرعَ، ويكفينا في مناقبه أنَّ تلميذه سيدي محمد وفا الشاذلي، ولو لم يكن له غيرُ ذلك لكفى.
توفي رضى الله عنه بالإسكندرية عام نيِّفٍ وثلاثين وسبع مئة، وله مقامٌ يُزار، ومسجدٌ كبيرٌ تُقام فيه الشعائر. اللهم انفعنا بمحبته، واسلك بنا على طريقه. آمين.
([1]) داود بن عمر بن إبراهيم الشاذلي المالكي، أبو سليمان الإسكندري: من فقهاء المالكية، متصوف وفاته بالإسكندرية سنة 732هـ من كتبه «كشف البلاغة» و «شرح الجمل» للزجاجي، و «مختصر التلقين» [«الأعلام» (2/333)].
---
From youm7.com
الشيخ داود ماخلا … تزوج ابنة سيدى ياقوت العرش حفيدة سيدى المرسى أبو العباس، وعاش فى الإسكندرية حتى توفى سنة 733ه‍، ودفن فى هذا المكان الموجود به مسجده وتحتفل الطرق الصوفية فى 21 رمضان بمناسبة افتتاح مسجده الذى أعيد بناؤه سنة 1978 .
Photos
Video
Books
Sh. Dawud b. Makhila: "Al-Latifatu al-Mardiyya fi du'a al-Shadhiliyya"
اللطيفة المرضية بشرح دعاء الشاذلية
شرح سيدي داود بن ماخلا على حزب البحر للإمام أبي الحسن الشاذلي رضي الله عنهما.
وهذا الشرح اعتد به الإمام السيوطي ونقله عنه وأثنى عليه وعلى مؤلفه في رسالته في الاقتباس المثبتة بمجموع فتاواه المسمى الحاوي في الفتاوي.
For sale at abjjad.com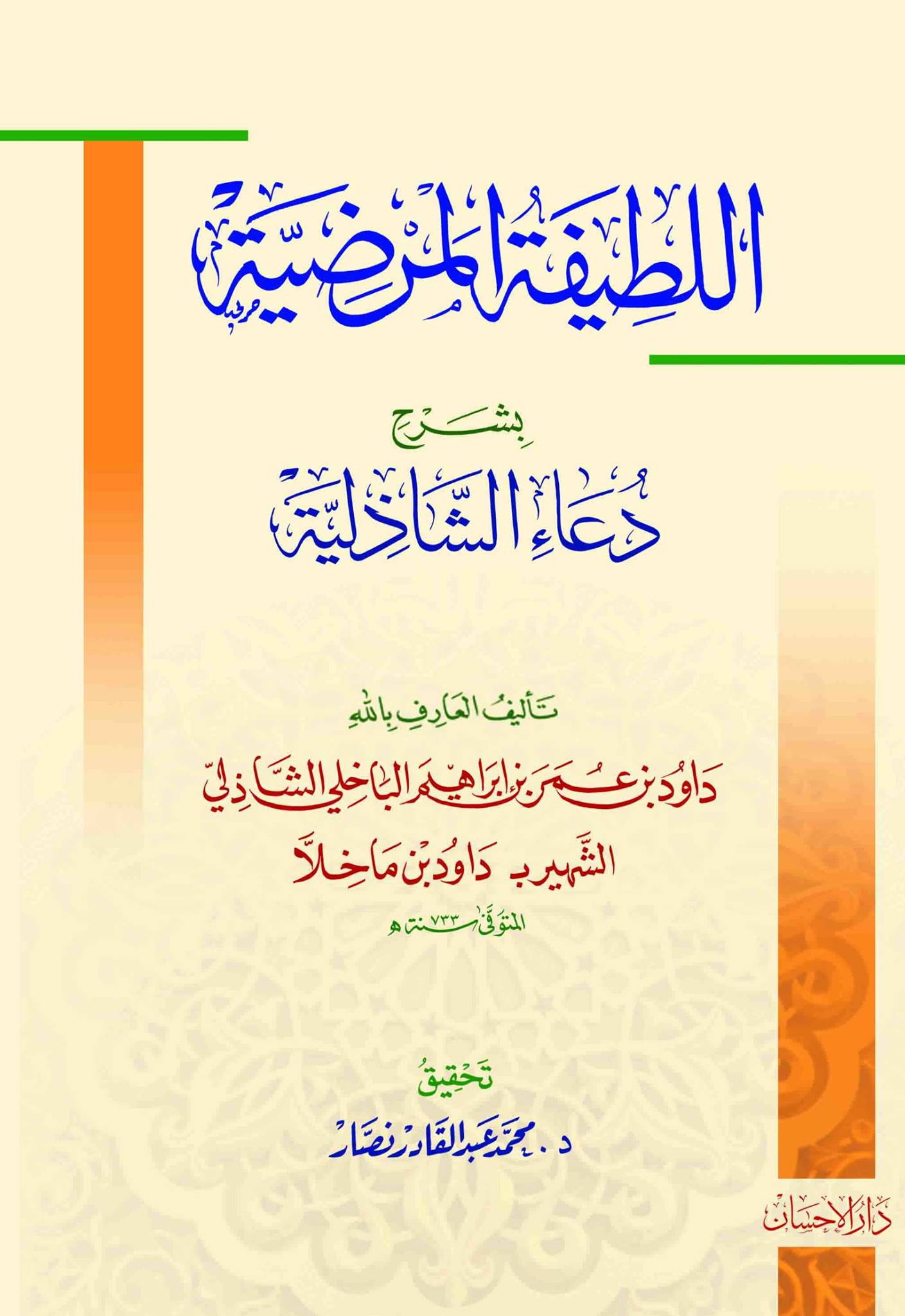 اللطيفة المرضية بشرح دعاء الشاذلية
لعل هذا الكتاب هو أول الشروح المؤلفة على حزب البحر للإمام أبى الحسن الشاذلى فلا يعلم شرح سابق عليه . وهو أوسع هذه الشروح وأطولها من حيث النفس العلمى . ومؤلفه هو رابع خلفاء سيدى أبى الحسن الشاذلى إذ تلقى الطريق عن الإمام العارف ابن عطاء الله السكندرى كما أنه شيخ العارف الكبير السيد محمد وفا شيخ البيت الوفائى الشهير .
وقد وصفه الإمام الشعرانى فى ترجمته بالعارف الكبير وهو جدير بهذا الوصف , كما يعلم من كتابه الفريد عيون الحقائق الذى سبق لنا نشره محققا لأول مرة . وقد احتوى هذا الشرح الجامع على تحقيقات علمية نادرة تشهد لمؤلفه برسوخ القدم فى العلم والمعرفة الصوفية.
نشر سنة 2015
Alternative edition: abjjad.com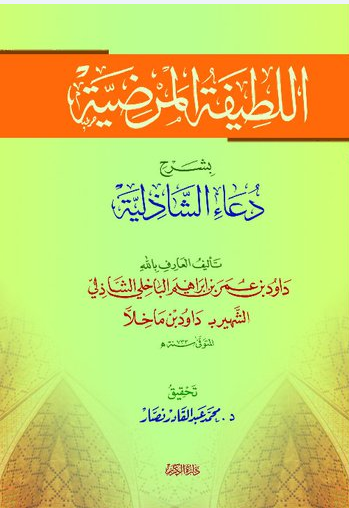 تراث شرح الأوراد الصوفية والتعليق عليها تراث في غاية الخصب والثراء، وهو كغيره من مناحي الثقافة الإسلامية الأصلية مبعث فخر للأمة المحمدية، يشهد بما في هذا الدين المشرف من حق وحقيقة ومشارع مفتوحة علي الرحمة الإلهية الإختصاصية التي لا تتيسر إلا لمن نظر الله سبحانه بعين الرضا والقبول والعناية والشمول.
ومن بواكير هذه الشروح هذا الشرح المنير لحزب البحر الشهير، بل لعله أبكرها علي الإطلاق، هذا الشرح المنيف علي حزب سيدي أبي الحسن الشاذلي المعروف بحزب البحر، فلا يحضرني في هذا المقام أي شرح لورد من الأوراد الصوفية سابق علي هذا الشرح.
وريادة هذا الشرح المبارك لا تقتصر علي سبقه الزماني، بل تمتد إلي سماته كتأليف من حيث عمق المعالجة للقضايا التي يطرحها نسق الحزب أو يوردها عليه المعترضون. وقد أبان فيه العلامة اللغوي النحوي الفقيه المالكي الصوفي الشاذلي الأستاذ الكبير سيدي داود بن باخلا عن نفس طويل ونظر عميق في تناول قضيتين مهمتين في الحزب مما قد يعترض به علي الحزب وقائله، وهما: قضية الاقتباس في القرآن، وقضية سؤال العصمة.
وقد جاءت معالجة سيدي داود قدس الله سره للقضيتين من الدقة العلمية والتوسع في التحري وتلمس الأدلة بحيث إن إماماً جامعاً مثل الإمام جلال الدين السيوطي يعتمد علي كلام الإمام في فتواه في المسألة في كتابه المعروف "الحاوي للفتاوي"
---
Sh. Dawud b. Makhila: "'Uyun al-Haqa'iq""
عيون الحقائق
For sale at : abjjad.com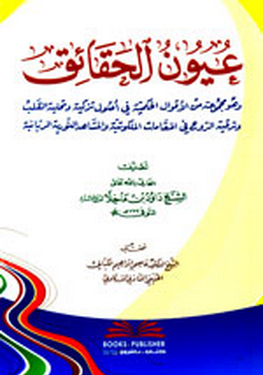 (وهو مجموعة من الأقوال الحكمية في أصول تزكية وتحلية القلب)
تأليف داود بن عمر بن إبراهيم الباخلي الشاذلي/داود بن ماخلا (تأليف) عاصم إبراهيم الكيالي (تحقيق)
Map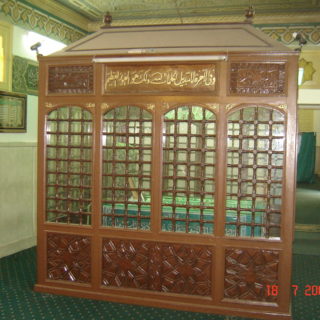 الشيخ أحمد ابن عَطاء اللهِ السَّكَنْدَري
d. 709 H. in Cairo
qaddasa Allah sirrahu
.
He was the student and successor of Abu al-`Abbas al-Mursi, i.e the second khalifa after Imam Abu al-Hasan al-Shadhili. – His successor in the The Shadhili Tariqa was Sh. Dawud al-Bakhili. –
May Allah be pleased with them all
.
Sh. Ibn ´Ata Allah was one of the great sufi imams, known as a muhaddith and Maliki jurist. He was the first to spread the Shadhili teachings in writing, and he authored many famous books such as the Hikam (Aphorisms), Taj al'Arus (Refinement of the soul) and many others.
Bio - English
Brief Biography
Biography from 'The Key To Salvation'
---
Ibn Ata' Allah al-Iskandari was born in the middle of the 7th century AH/13th century CE and grew up in Alexandria during the Mamluk era. Although not much is known about his life, he had the best teachers in all branches of traditional sciences and became known as a great master of Islamic law of the Maliki School. His lifetime witnessed the great flourishing of several Sufi brotherhoods, including the Shadhiliyya, the Mawlawiyya, the Chishtiyya and the Ahmadiyya. His father was a student of Imam al-Shadhili, though it is unlikely he ever met him. Initially Ibn Ata'Allah was not so drawn to the Sufi path, preferring to concentrate his energies on jurisprudence. Yet, in spite of his early antipathies, he did become a disciple of Shaykh Abu 'l-Abbas al-Mursi, (d. 686/1288). As his most important and principal work, the Hikam, attests, he had become a Sufi master in his own right, and was already a shaykh when al-Mursi died. He became the third great master of the Shadhiliyya order, which grew from Morocco and spread throughout North Africa and beyond. With his career as a scholar in Cairo under the Mamluks in full flourish, he died at around 60 years of age in 709 AH/ 1309 CE and was buried there in the Qarafa cemetery.
---

Biographical sketch of Ibn `Ata Allah al-Sakandari taken from the introduction to Ann Koury Danner's translation of 'The Key To Salvation'
Taj ad-Din Abu'l-Fadl Ahmad b.Muhammad b. Abd al-Karim b. Ata'illah as Sakandari, al-Judhami ash-Shadhili, known simply as Ibn Ata'illah as-Sakandari, was born in Alexandria, Egypt, as his family tree (nisbah) indicates, about the middle of the seventh [AH] /thirteenth [CE] century. His family were renowned Maliki scholars from the Banu Judham tribe, originally from Arabia. His grandfather, Abd al-Karim (d. 612 AH/1216 AD) had distinguished himself as an expert in Fiqh, usul (principles of jurisprudence), and Arabic, having studied under the famous Abu'l-Hasan al-Abyari. He had written several books, among which were al-Bayin wa't-Taqrib fi Sharh at-Tahdhib, Mukhtasar at-Tahdhib, and Mukhtasar al-Mufassal, and had been very hostile to Sufism.
On the other hand, Ibn Ata'illah's father Muhammad (death date unknown) seems to have been of a different mind and although a Faqih (scholar), he was also the disciple of the great Sufi Shaykh Abu'l-Hasan ash-Shadhili (593-656AH/1197-1258AD), the founder of the Shadhili Sufi order.
As a youth, Ibn Ata'illah received a traditional Islamic education in such disciplines as Qur'anic recitation, Hadith (Prophetic tradition), Tafsir (Qur'anic commentary), grammar, usul, philosophy, belles-lettres, and Fiqh (jurisprudence) under some of the best and most illustrious teachers of Alexandria, in addition no doubt, to the instruction given him by his own family.
Ironically, in spite of his father's attachment to the Shadhili master Abu'l-Hasan, Ibn Ata'illah was initially rather hostile to Sufism much like his grandfather, as he himself admits in his book Lata'if al-Minan, but not for any definite reason. In fact, what precipitated his meeting with Shaykh Abu'l-Abbas al-Mursi, the successor of Shaykh Abu'l-Hasan was an argument with one of al-Mursi's disciples. Consequently, Ibn Ata'illah decided to see for himself who this man was after all, 'a man of Truth has certain signs that cannot be hidden'. He found him holding forth on such lofty spiritual matters that he was dazzled. Ibn Ata'illah states that at that moment GOD removed whatever objections he previously had. Something had obviously touched his heart and mind, so he went home to be alone and reflect.
That was apparently the turning point for him, for shortly thereafter Ibn Ata'illah returned to visit Shaykh Abu'l-Abbas al-Mursi who received him so warmly that he was embarrassed and humbled. Ibn Ata'illah states, 'The first thing that I said to him was "O Master, by GOD, I love you". Then he answered, "May GOD love you as you love me". Then Ibn Ata'illah told him of various worries and sadness he had, so the Shaykh told him: There are four states of the servant, not five: blessings, trials, obedience, and disobedience. If you are blessed, then what GOD requires of you is thankfulness. If you are tried, then what GOD requires of you is patience. If you are obedient, then what GOD requires of you is the witnessing of His blessings upon you. If you are disobedient, then what GOD requires of you is asking forgiveness.
After leaving Shaykh al-Mursi, he mentions that he felt that his worries and his sadness were like a garment that had been removed. From that time in 674 AH/ 1276 AD when Ibn Ata'illah was initiated into the Shadhili order until the death of Shaykh al-Mursi twelve years later, he became his devoted disciple and says that in all those years he never heard his Shaykh say anything that contradicted the Shari'a.
What spiritual fruits he must have received cannot be known, but his development into a Sufi master capable of guiding and teaching others took place within the lifetime of his Shaykh, i.e., well within e twelve-year period before 686 AH/1288 AD. His discipline and progress in the path coupled with his great learning made him renowned as a religious authority.
Ibn Ata'illah's virtue, majestic presence, eloquence, and spiritual insights were such that he had many followers. He even performed miracles, some of which have been recorded, such as speaking from his grave to one Kamal ad-Din b. al-Hamam who had gone to the Shaykh's tomb to recite Surat Hud. As a result, Ibn al-Hamam was counselled to be buried there. Another miracle attributed to Shaykh Ibn Ata'illah is his having been seen in Mecca at three different places by one of his disciples who had gone on Pilgrimage. When the latter returned, he asked if the Shaykh had left the country in his absence and was told no. Then he went to see him and Ibn Ata'illah asked him, 'Whom did you see on this trip of yours?' The disciple answered, 'O Master, I saw you'. So he smiled and said, 'The realized sage fills the universe. If he summoned the Qutb (Spiritual Pole), verily he would answer.'
Still another miracle recorded is the story of three men on their way to attend Shaykh Ibn Ata'illah's public lecture (majlis). One said, 'If I were free from the family, I would become an ascetic'; the second one said, 'I pray and fast but I do not see a speck of benefit'; and the third said, 'Indeed, my prayers do not please me so how can they please my Lord?' After arriving, they heard Ibn Ata'illah discourse and in their presence he said, 'There are among people those who say…' and he repeated their words exactly.
Ibn Ata'illah taught at both the al-Azhar Mosque and the Mansuriyyah Madrasah in Cairo as well as privately to his disciples. However, it is not known where his Zawiyah was located.
Shaykh Ibn 'Ata' Allah died at around sixty years of age in the middle of Jumada II 709 AH/November 1309 AD. As befitting an eminent and learned teacher, he died in the Mansuriyyah Madrasah. His funeral procession was witnessed by hundreds of people and he was buried in the Qarafah Cemetery in Cairo in what is today called the City of the Dead, at the foot of Jabal al-Muqattam. His tomb became famous as the site of homage, visitation, prayer, and miraculous occurrences. To this day this is still the case.
This pious and extraordinary contemplative figure left behind a spiritual legacy no less impressive than those of his own beloved Shaykh, and the eminent founder Shaykh Abu'l-Hasan ash-Shadhili. All the biographers refer to Ibn 'Ata' Allah with illustrious titles and reverence and mention how marvellously he spoke and how uplifting his words were. In spite of the fact that he followed the Maliki madhbab, the Shafi'is laid claim to him, most probably because some of his earlier teachers had been Shafi'i scholars, not to mention some of his students.
Hence, his disciples could only be all the more devoted in their attachment to and love for him. Of the untold numbers of followers that Shaykh Ibn Ata' Allah had, both in Cairo, Alexandria, and elsewhere, only very few names are known. That is, doubtless, due to the fact that the Shadhilis did not advocate withdrawing from the world or wearing special clothing to distinguish themselves. They were 'in the world but not of the world', so to speak.
Español
Uno de los grandes imams sufies, también conocido por ser muhaddiz, imam y jurista Maliki, Abu al-Fadl Ibn `Ata Allah al-Iskandari (d. 709) es el autor de al-Hikam (Aforismos), Miftah al-falah (La llave del éxito), al-Qasd al-mujarrad fi ma`rifat al-ism al-mufrad (El objetivo puro del conocimiento del Nombre Único), Taÿ al-`arus al-hawi li tadzhib al-nufus (Lo mejor al respecto de la corrección de las almas), `Unwan al-tawfiq fi adab al-tariq (El signo del éxito relacionado con la disciplina del camino), el libro biográfico Lata'if fi manaqib Abi al-`Abbas al-Mursi wa shayjihi Abi al-Hasan (Las sutiles gracias en las vidas santas de Abu al-'Abbas al-Mursi y su maestro Abu al-Hasan al-Shadzili), y otros. Fue discípulo de Abu al-`Abbas al-Mursi (d. 686) y el segundo sucesor del fundador Sufi, el Imam Abu al-Hasan al-Shadzili.
عربي
t.b.d.
Video
Books
He authored many books among them:
● Al-Hikam – The Aphorisms – الحكم العطائية على لسان أهل الطريقة – on this site
● Lata'if al-Minan – لطائف المنن – on this site
Lata'if fi manaqib Abi al-`Abbas al-Mursi wa shaykhihi Abi al-Hasan (translated as "The subtle blessings in the saintly lives of Abu al-`Abbas al-Mursi and his master Abu al-Hasan al-Shadhili")
● Kitab al-Tanwir – on this site
● Taj al-'Arus – تاج العروس – Arabic – on this site
Taj al-`arus al-hawi li tadhhib al-nufus ("The bride's crown containing the discipline of souls")
● Miftah al-Falah – مفتاح الفلاح – The key to success – on this site
● Al Qasd al-Mujarrad – القصد المجرد في الاسم المفرد – Arabic Maktaba Madbuli
Al-Qasd al-mujarrad fi ma`rifat al-ism al-mufrad ("The pure goal concerning knowledge of the Unique Name")
● 'Unwan al-Tawfiq – عنوان التوفيق في آداب الطريق – Arabic View PDF
`Unwan al-tawfiq fi adab al-tariq ("The sign of success concerning the discipline of the path")
● and many others.
Burial Place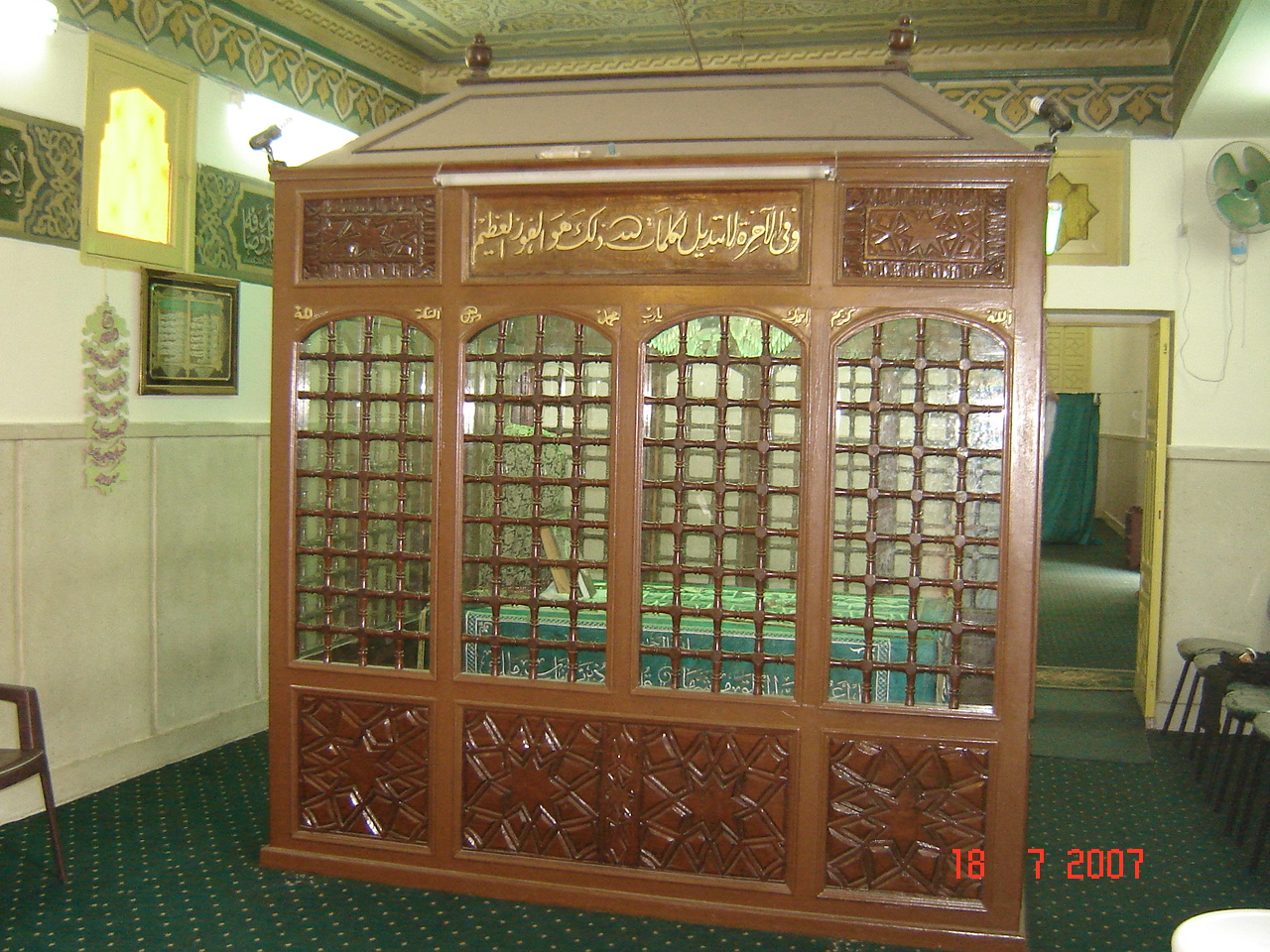 Ibn `Ata Allah is buried in the Qarafah Cemetery in Cairo.
Refs