b. 599 – d. 665 in Damascus (1202-1267 CE)
الإمام عبد الرحمان بن إسماعيل بن إبراهيم عثمان المقدسي ثم الدمشقي، المعروف بأبي شامة
radiya Allah anhu
.
﷽
Grammarian and muhaddith [ZaSh] He was the third head of Damascus Dar al-hadith after Imam al-Nawawi[almuhaddith]
Brill Entry
Abū Shāma Shihāb al-Dīn al-Maqdisī
Abū Shāma Shihāb al-Dīn ʿAbd al-Raḥmān b. Ismāʿīl b. Ibrāhīm b. ʿUthmān b. Abī Bakr b. Ibrāhīm b. Muḥammad al-Maqdisī (599–665/1203–68) was a scholar of seventh/thirteenth-century Damascus. Best known for his histories Kitāb al-rawḍatayn fī akhbār al-dawlatayn al-Nūriyya wa-l-Ṣalāḥiyya (The book of the two gardens, concerning affairs of the reigns of Nūr al-Dīn b. Zangī and Ṣalāḥ al-Dīn b. Ayyūb) and al-Dhayl ʿalā l-rawḍatayn (Sequel to The two gardens), Abū Shāma was one of the most important chroniclers of the Crusader and Ayyūbid periods in Greater Syria…
---
From
Antrim, Zayde G., "Abū Shāma Shihāb al-Dīn al-Maqdisī", in: Encyclopaedia of Islam, THREE, Edited by: Kate Fleet, Gudrun Krämer, Denis Matringe, John Nawas, Everett Rowson. Consulted online on 13 May 2017
First published online: 2009
First print edition: 9789004178533, 2009, 2009-2
عربي
From
naseemalsham
أبو شامة المقدسي
للباحثة نبيلة القوصي
أبو القاسم شهاب الدين عبد الرحمن بن إسماعيل بن إبراهيم المقدسي الدمشقي المعروف بأبي شامة، (599 – 665 هـ ، 1202 – 1267 م) ولقب بأبو شامة، لشامة كبيرة فوق حاجبه الأيسر.
ولد سنة تسع وتسعين وخمس مائة في دمشق، وتوفي سنة خمس وستين وستمائة. قرأ القرآن وله دون العشر، وقرأ القراءات كلها سنة ست عشرة على الشيخ علم الدين السخاوي. وسمع بالإسكندرية من أبي القاسم عيسى بن عبد العزيز وغيره.
له عناية بالحديث، سمع أولاده، وقرأ بنفسه، كتب الكثير من العلوم وأتقن الفقه ودرَّس وأفتى، وبرع في العربية وصنف شرحاً "للشاطبية"، واختصر "تاريخ دمشق" مرتين، الأولى في خمس عشر مجلداً، والثانية في خمسة، شرح القصائد "النبوية" للسخاوي في مجلد.
وله كتاب "الروضتين في أخبار الدولتين: النورية والصلاحية"، وكتاب "الذيل" عليها، وكتاب "شرح الحديث المقتفى في مبعث المصطفى" وكتاب "ضوء القمر الساري إلى معرفة الباري"، وكتاب "البسملة الأكبر" في مجلد، و"الباعث على إنكار البدع والحوادث"، وكتاب "السواك"، و"الأصول من الأصول".
ونظم "المفصل" للزمخشري، وشيوخ البيهقي وله غير ذلك، وأكثرهم لم يفرغ منها.
ولي مشيخة دار الحديث الأشرفية ومشيخة الإقراء بالتربة الأشرفية.
وقد اشترط الملك الأشرف رحمه الله أمرين اثنين لمن يتولى مشيخة دار الحديث سنة 630 هـ: الأول أن تجتمع في الشيخ علم الرواية، والشرط الثاني: علم الدراية. وتُقدم الرواية على الدراية.
وكان أبو شامة الثالث في تولي مشيخة دار الحديث ومن بعده تدلى الإمام النووي.
وعُرف أبو شامة بكثرة ترحاله، ارتحل إلى الإسكندرية وسمع من شيوخها، وشد رحاله إلى مصر أكثر من مرة، وإلى بيت المقدس، ومكة والمدينة، والمدن الشامية، وزاد عدد شيوخه على الأربعين.
أخذ عنه القراءات الشيخ شهاب الدين حسين الكفري، والشهاب أحمد اللبان، وزين الدين أبو بكر بن يوسف المزي وجماعة، وقرأ عليه شرح الشاطبية الشيخ شرف الدين الفزاري الخطيب.
دخل عليه اثنان جبليَّان إلى بيته بآخر المعمور من حكر طواحين الأشنان في صورة فتياً، فضرباه ضرباً مبرحاً كاد يتلف منه، ولم يدر به احد ولا أغاثه، وتوفي في 19 رمضان ودفن بباب الفراديس.
قال رحمه الله: جرت لي محنة بداري بطواحين الأشنان فألهم الله الصبر، وقيل لي: اجتمع بولاة الأمر فقلت: أنا قد فوضت أمري إلى الله وهو يكفينا. وقلت في ذلك:
قلت لمن قال أما تشتكي *** ما قد جرى فهو عظيم جليل
يقيض الله تعالى لنا *** ما يأخذ الحق ويشفي الغليل
إذا توكلنا عليه كفى *** وحسبنا الله ونعم الوكيل
الإعلام للزركلي ج3 / 299
مفرات الوفيات ج1 / 252
وافي الوفيات / الصفدي ج18 / 67
Burial Place
Buried at Bab al-Faradis, left to the entrance of Maqbara Dahdah from the Bab, on the meadow of al-Dahdah [Ziarat al-Sham, RB] By the side of Jami' al-Nuhhas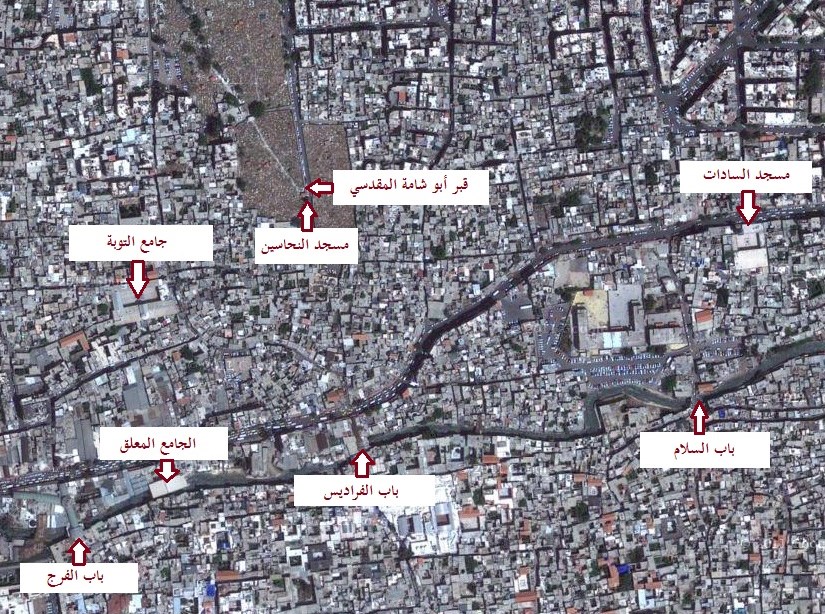 Sources:
Ziarat al-Sham, RB, bmk ziarat
Damas Cultural Society 2007
naseemalsham



Related Posts
---
Categories:
Bionotes
,
Damascus History
,
Damascus Ziyarat
,
Scholars of Hadith
,
Scholars of Islam
🞄 🞄 Mediatype:
Biography
🞄 🞄 Tags: