By Al-Khuwārizmī
Imam al-Busiri
⇒
PDF
|
Library Gallery
ﷺ
Start: page 17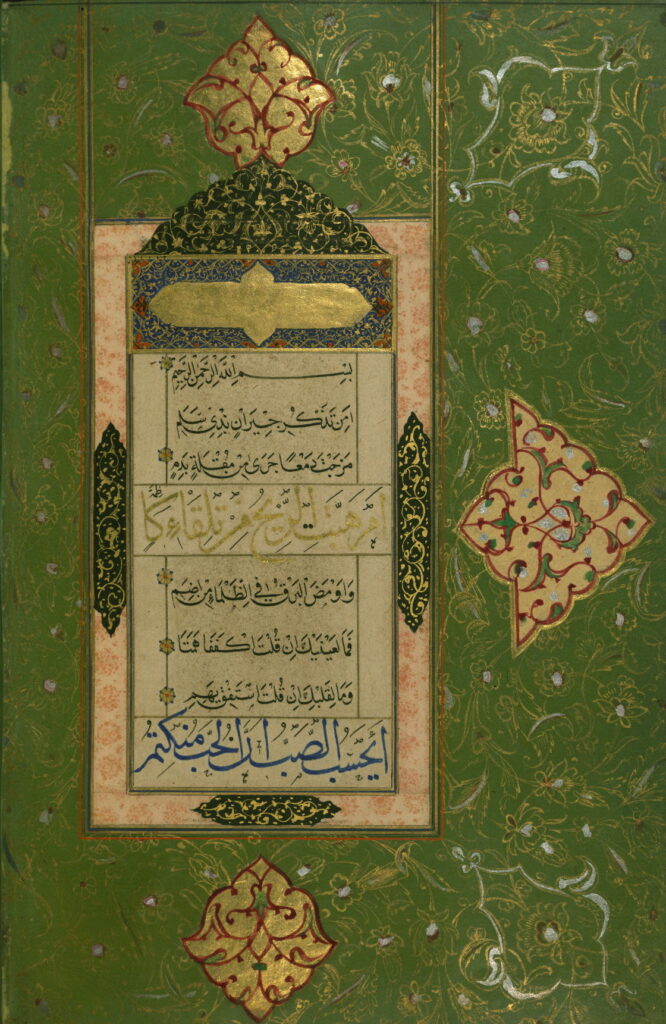 Info & Refs
Reference:
Library of Congress
INFO
Summary
This illuminated small codex contains a famous poem in honor of the Prophet Muhammad popularly known as "Qaṣīdat al-Burdah" (The poem of the mantle), which was composed by Sharaf al-Dīn Muḥammad al-Būṣīrī (died 694 AH [1294 CE]). This copy was executed in a variety of scripts, probably in Iran, by Ḥabīb Allāh ibn Dūst Muḥammad al-Khwārizmī in the 11th century AH (17th century CE). The first page (folio 1b) of the manuscript features an illuminated rectangular headpiece with five inner panels of text executed in the following scripts: muhaqqaq (gold), naskh (black), thuluth (blue), naskh (black), and muhaqqaq (gold). Muhaqqaq, naskh, and thuluth are three of the six scripts collectively known as the Six Pens. Perfected between the 10th and 13th centuries, the Six Pens are the classical script styles that influenced later generations of calligraphers, up to the present day. The final illuminated page (folio 23a) in the codex contains the colophon, which gives the name of the scribe as Ḥabīb Allāh ibn Dūst Muḥammad. The colophon is written in riqa script, defined by fluid lines. Riqa was commonly used for chancellery documents and for colophons.
Names
Al-Busiri, Sharaf al-Dīn Muḥammad, 1213-1294 Author.
Al-Khuwārizmī, Ḥabīb Allāh ibn Dūst Muḥammad, 17th century Scribe.
Created / Published
1600 to 1700
Headings
– Iran, Islamic Republic of
– 1600 to 1700
– Arabic calligraphy
– Arabic poetry
– Codex
– Illuminations
– Islamic manuscripts
– Poetry
Notes
– Title devised, in English, by Library staff.
– "This poem is also known as al-Kawākib al-durrīyah fī madḥ khayr al-barīyah. The text of the poem begins on fol.5b."–Note extracted from World Digital Library.
– Original resource extent: 25 x 16 centimeters. Cream, glazed paper for main panel; multi-colored paper for inlaid margins, which are decorated with floral and geometrical designs, the latter in the form of stamp-like pendants.
– Original resource at: Walters Art Museum.
– Content in Arabic.
– Description based on data extracted from World Digital Library, which may be extracted from partner institutions.
Categories: Book items, Calligraphy, Qasida Burda 🞄 Languages: English, عربي 🞄 Mediatype: Calligraphy, Qasida 🞄 🞄 Tags: Al-Khuwārizmī (calligrapher), Imam al-Busiri 🞄 Post type: page 🞄 🞄
---
Related Posts