﷽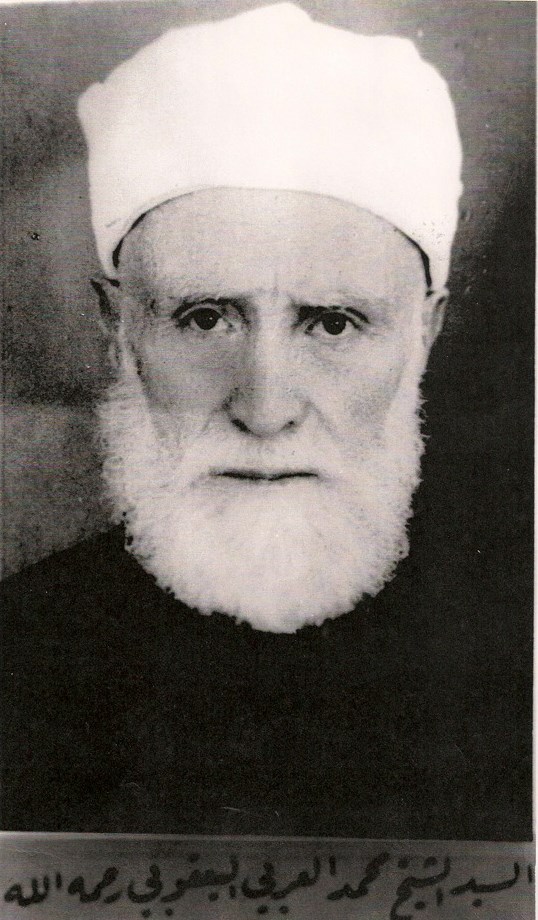 Sheikh Muhammad
al-´Arabi Al-Yaqoubi
d. H. / 1965 CE


Click on the photo to go the article
Yaqoubi family diagram | Burial places in Damascus
Ocean of Awlia
An Ocean of Awlia
The Legacy of the Al-Yaqoubi Family in Damascus
By His Eminence Shaykh Muhammad Al-Yaqoubi
View PDF | Download
Pictures
Yaqoubi Awlia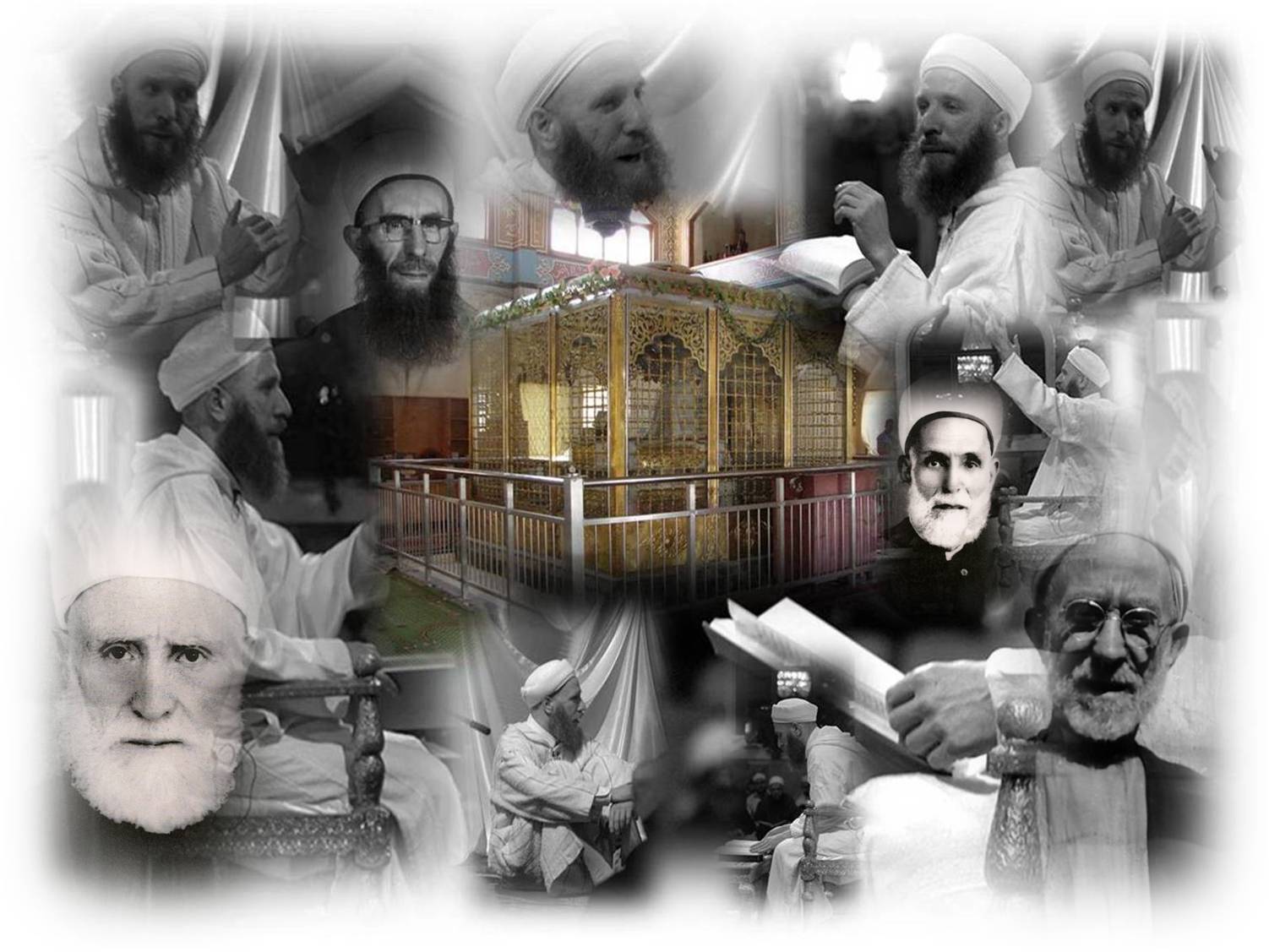 Family tree
Click to open file in new window | as overlay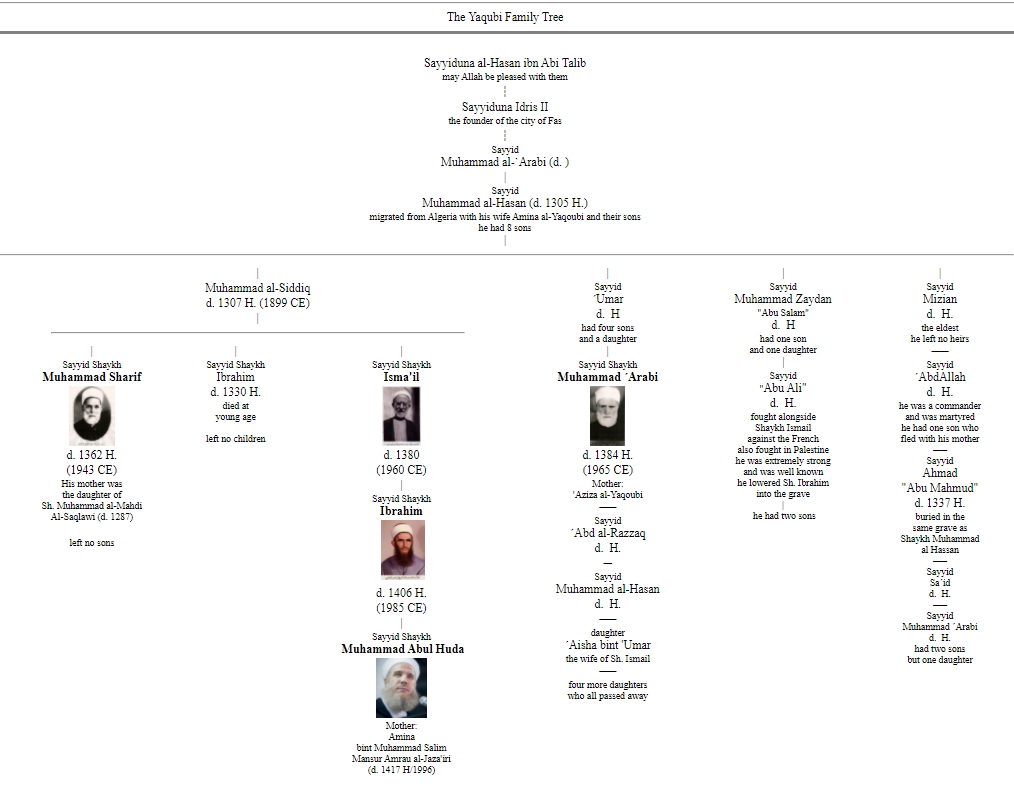 Lineage
From
cb.rayaheen.net
بسم الله الرحمن الرحيم
الحمد لله والصلاة والسلام على سيدنا رسول الله وعلى آله وصحبه أجمعين.
أعلى نسبين معروفين بالتواتر في الشام هما نسب آل اليعقوبي وآل الكتاني الأدارسة.(وليفدنا الإخوة إن كان هناك ما هو أعلى).
نسب الشيخ الشريف سيدي محمد أبي الهدى اليعقوبي:
بن إسماعيل بن محمد الصديق بن محمد الحسن بن محمد العربي بن أحمد بن بابا حبي بن الخضر بن عبد القادر بن مزيان بن محمد الحسن بن محمد الصغير بن إبراهيم بن يحيى بن أحمد بن صالح بن إدريس بن أبي يعقوب بن محمد الحسن بن الجودي بن أحمد بن عبد القادر بن يحيى بن عمر بن أبي القاسم بن حسين بن إبراهيم بن عبد القادر بن عربي بن صالح بن سعيد بن عمر بن أحمد بن محمود بن حسين بن علي بن إدريس الأنور بن إدريس الأكبر بن عبد الله المحض بن الحسن المثنى بن الحسن السبط بن سيدتنا فاطمة الزهراء وسيدنا علي عليهما السلام.
Refs

May Allah grant us attachment to them
View PDF
|
Download
Name
Date of passing
1. Sayyidi Sheikh
Muhammad al-Yaqoubi
al-Hasani - hafizhahu Allah ta`ala May Allah preserve him ...