From Mawlid al-Imam al-Barzanji (rahimahu Allah)
View PDF in English | Svenska
English
The Noble Lineage of the Messenger of Allah ﷺ
may Allah send prayers and blessings on him and his Family
I say he is Sayyiduna Muhammad son of 'Abd Allah son of 'Abd al-Muţţalib, named Shaybat al-Hamd whose brilliant qualities were praised Son of Hashim, whose name is 'Amr, son of 'Abd Munāf, whose name is al-Mughira to whose exaltedness the ascension is related Son of Quşay, whose name is Mujammi' because he used to travel far into Quđā'a land Until Allah brought him to the sacred haram and its protection Son of Kilāb, whose name is Hakīm, son of Murrah son of Ka'b son of Lu'ay son of Ghālib son of Fihr, whose name is Quraysh, to whom the clans of Quraysh are related What is above Quraysh is Kināni as accepted by many Ibn Mālik son of al-Nađr son of Kinānah son of Khuzaymah son of Mudrikah son of Ilyās, the first to offer camels as a present to the sacrosanct precinct And in whose loins the Prophet was heard mentioning Allah and responding to Him Son of Muđar son of Nizār son of Ma'add son of 'Adnān—this is a thread whose precious gems were strung by the finger of the brilliant sunnah 'Adnān, whom Allah connected to the Khalil, Ibrahim (upon him be peace), whose way Sayyiduna Muhammad took and whose father he is And here there is no doubt for those who have knowledge of his ineage That 'Adnān descends from the Sacrificed, Ismā'īl, where Sayyiduna Muhammad's lineage ends How great a necklace whose pearls like stars shine And why not, since its most precious, the Master the Noble, is among the lineage That 'Adnān descends from the Sacrificed, Ismā'īl, where Sayyiduna Muhammad's lineage ends How great a necklace whose pearls like stars shine And why not, since its most precious, the Master the Noble, is among them Lineage measures exalted nobility by his adornment Gemini beautifies the necklace of stars Deference to the necklace of dominion and glory In which you are the orphan and jewel How noble is the lineage that Allah has purified from the immorality of jahiliyya (Referencing Zayn al-Iraqi's book The Wholesome Mawlid) Allah has preserved the nobility of Muhammad His noble forefathers safekeeping his name Never having indulged themselves in immorality From Adam to his father and mother he light of prophethood appeared as a beautiful white mark on their foreheads His new moon appeared on the foreheads of his grandfather and his son 'Abd Allah (Sayyiduna Muhammad's father)
O Allah, scent his noble grave with an aromatic fragrance of blessings and peace
Svenska
Profeten Muhammads ﷺ ädla härkomst | Imam Barzanji
Ur "Mawlid al-Barzanji" av Imam as-Sayyid Ja'far ibn Hasan ibn 'Abdal Karim al-Barzanji (d. 1177 H. i Madina Munawwara) | Ladda ner som PDF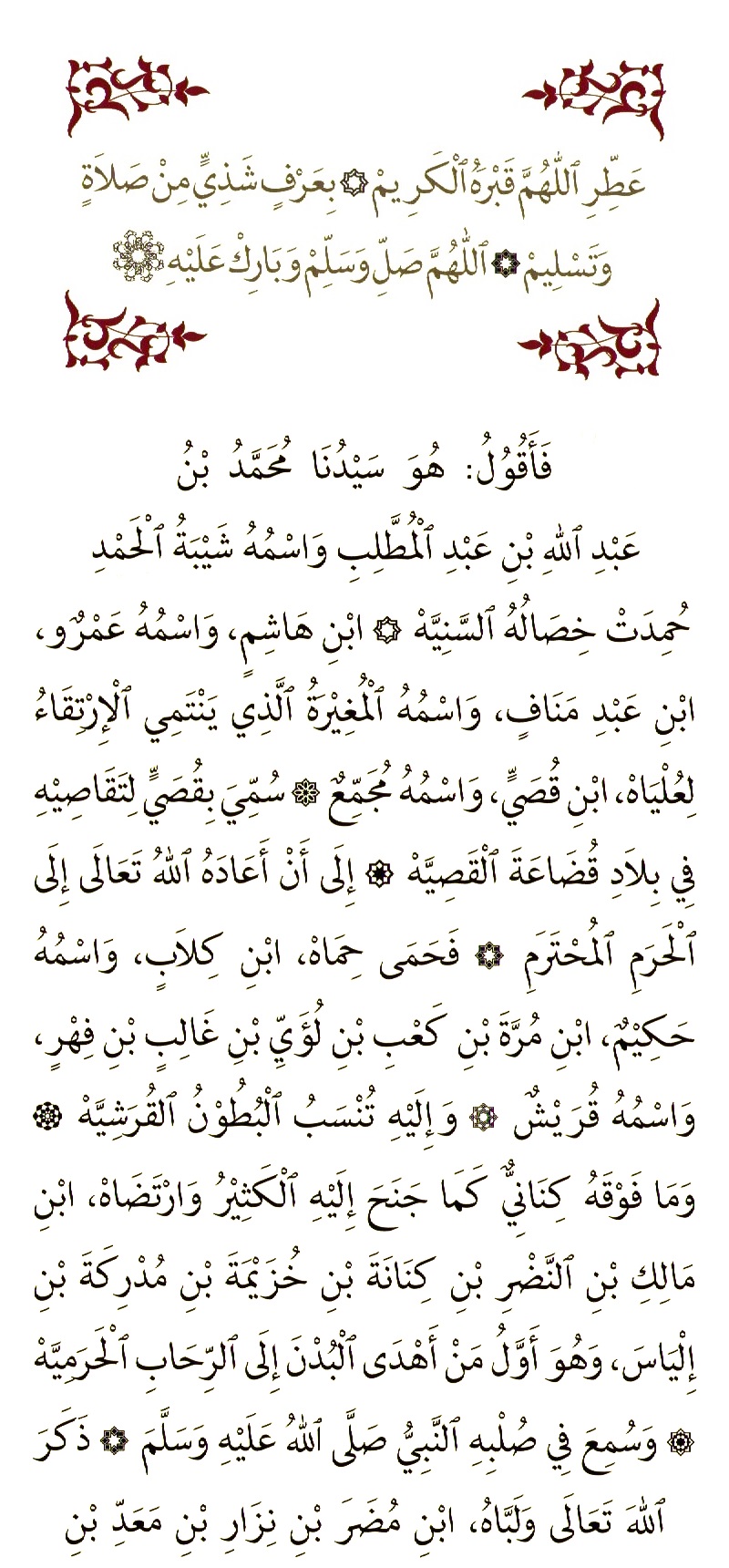 Jag säger: Han är vår mästare Muhammad, må Allah välsigna honom och sända fred över honom, son av Abdullāh; son av 'Abd al-Muttalib vars namn var Shaybat al-Hamd, eftersom hans höga karaktär lovordades; son av Hāshim, vars namn var 'Amr; son av 'Abd Manāf vars namn var Mughīrah, som var hög i status; son av Qusayy vars namn var Mujammi'. Han kallades Qusayy därför att han befann i Qudā'ah, landet långt bort i fjärran, tills Allah den Upphöjde förde honom åter till Haram (det heliga området i Makkah) i Hans beskydd; son av Kilāb vars namn var Hakīm; son av Murrah; son av Ka'b; son av Lu'ayy; son av Ghālib; son av Fihr vars namn var Quraysh, och från honom härstämmar Qurayshs ätt. Före honom var Kinānī, vilket många (av de lärde) är överens om; Kinānī var son av Mālik; son av Nadr; son av Khuzaymah; son av Mudrikah; son av Ilyās, som var den förste att offra kameler inne i al-Haram. Från hans länder hördes Profeten, må Allah välsigna honom och sända fred över honom, nämna Allah och säga: "O' min Herre här är jag, till Din tjänst"; son av Mudar; son av Nizār; son av Ma'add; son av 'Adnān. Detta är en tråd vars dyrbara juveler träts på av den fulländade Sunnans hand. Att spåra 'Adnāns härkomst till Allah's vän, Profeten Ibrāhīm, fred vare med honom, var något som Laggivaren (Profeten må Allah välsigna honom och sända fred över honom) avhöll sig från. Enligt genealogerna råder det dock inget tvivel om att 'Adnāns börd kan spåras tillbaka till den som offrades, Ismā'īl, där vår mästare Muhammads släktled slutar.

Vilken vackert halsband är inte detta, vars pärlor tindrar likt de lysande stjärnorna på himlen. Och varför skulle det inte vara så, när den utvalde, mest ärade Mästaren (Profeten må Allah välsigna honom och sända fred över honom) är bland dem!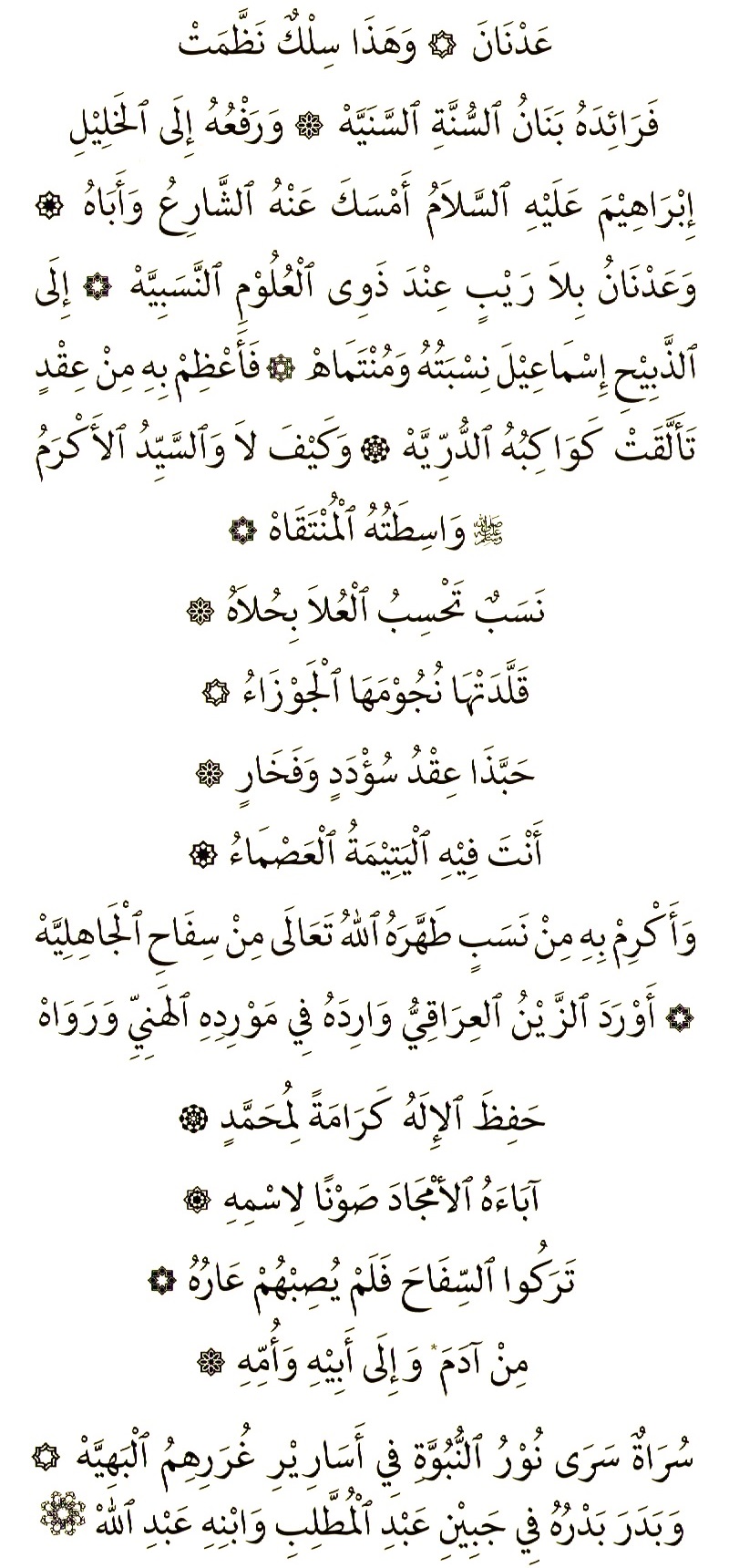 En börd som når höjder av ornament,
utsmyckad som ett halsband
från Geminis stjärnkonstellation
O' vilket utsökt smycke av ledarskap och prakt!
I vilken du (O' Muhammad)
är dess välbevarade juvel!

Hur nobel är inte den börd vilken Allah den Upphöjde har renat från Jāhiliyyahs omoral. Det har förmedlats av Zayn al-'Irāqī i hans 'Mawrid al-Haniyy':

Allah har bevarat Muhammads ära
och hans nobla förfäder till skydd för hans namn,
de lämnade omoralen och erfor aldrig dess skam
från Adam och ända fram till hans far och mor

Profetskapets klara ljus emanerar från deras upplysta ansikten. Hans fullmåne visade sig i hans farfar 'Abd al-Muttalibs och hans far Abdallāhs anleten.

O' Allah må du parfymera hans ärade grav
med väldoften från välsignelser och fred.
O' Allah välsigna honom och sänd Din fred över honom!

---
Översatt till svenska av md
Från rahma.se
Kalligrafier ur boken "The Barzanji Mawlid: The Jewelled Necklace of the Resplendent Prophet's Birth" utgiven 2009 av Al-Manaqib Publications
---
عربي
فـأقـول : هـو سـيـِّـدنـا مـحـمـد بـن عـبـد الـلـه بـن عـبـد المـطـَّـلـب واسـمـه شـيـبـة ُالحـمـدِ , ابـن هـاشـم واسـمـه عـمـرو , ابـن عـبـد مـنـاف واسـمـه المـغـيـرة , ابـن قـصـي واسـمـه مـُجـَـمـِّعِ , سـُمـِّيَ بـِقـُـصـَيٍّ لـِتـَـقـاصـِـيِـهِ فـي بـلاد قـُـضـَاعـة الـقـصـيـة , إلـى أن أَعـَـادهُ الـلـه تـعـالـى إلـى الـحـَرَمِ الـمُـحـتــَـرمِ فـَحـمـى حـِمـَاه , ابـن كـِلابٍ واسـمـه حـكـيـم , ابـن مـُـرَّة بـن كـعـب بـن لـُـؤَي بـن غـالـب بـن فـهـرٍ واسـمـه قـُـريـْش , وإلــيـه تـُـنـسـَبُ الـبـُطـُون الـقـُـرَشـيـَّـة, وما فـوقـه كـِنـَانـِيٌّ كـمـا جـَـنـحَ إلــيـه الـكـَـثـيـرُ وارتـضـاه , ابـن مـالـك بـن الـنـَّـضـرِ بـن كـِنـَانـة بـن خـُـزَيـمـة بـن مـُـدرِكـَة بـن إلـيـاس , وهـو أوَّل مـن أَهـدى الـبـُـدْنَ إلـى الـرِّحـَاب الـحـَرمـيـة , وسـُـمـِعَ فـي صـُـلـبـهِ الـنـَّـبـيّ صـلـى الـلـه عـلـيـه وسـلـم ذكـَـرَ الـلـه تـعـالـى ولـبـَّـاه , ابـن مُـضـَر ابـن نـِـزَار بـن مـَـعـَـد بـن عـدنـان.
وهـذا سـِـلـْـكٌ نـظــَّـمـت فـَـرَائـِدهُ بـَـنـانُ الـسـُّـنـَّـة الـسـَّـنـيـَّـة, وَرَفـْـعـهُ إلـى الـخـلـيـل إبـراهـيـم عـلـيـه الـسـلام أَمـسَــكَ عـنـه الـشـَّارعُ وأبـاه .
وعـدنـان بـلا رَيـبٍ عـنـد ذوي الـعـُـلـومِ الـنـِّـسـبـيـَّـة, إلى الـذبـيـح إسـمـاعـيـل نـِسـبـتـُـهُ ومـُـنـتـَــمـاه.
فـأَعـظِـم بـه مـن عـِقــْـدٍ تـألـَّـقـَـت كـواكـِبـُـهُ الـدُّريـَّـة, كـيـف لا ؟! والـسَّـيـِّـدُ الأكرم صـلـى الـلـه عـلـيـه وسـلـم وَاسـِطـَـتـُـهُ الـمـُـنـْـتـقـاة.
ولـلـه درُّ الـقائـل :
نــســـَـبٌ تـَـحـْــســــب الــعـُـــلا بـِـحـُـــلاه
قـــلـَّـــدتــــهُ نـُــجـُـــومـَــهــا الــجـَــــوزاءُ
حـــبـَّـــذا عـِــقــْـــدُ ســـــــؤدَدٍ وفـَــخـَــــارٍ
أنــــت فــيـــه الــيـتــيــمـَــةُ الـعـَـصـْــمــاءُ
وأَكـْـرِمْ بـهِ مـن نـَـسَـبٍ طـَهـَّرهُ الـلـه مـن سـِفـَـاحِ الـجـاهـلـيـَّـة, أورَدَ الـزَّيـنُ الـعراقـيُّ وارِدَهُ فـي ( مـَورِدَهُ الـهـَـنـيِّ ) ورَواه ,
ولـلـه درُّ الـقـائـل:
حـَـفـِـــــظَ الإلـــهُ كـَـــرامـَــةً لــمـُـحـــمـــدٍ
آبـــــاءَه الأمــجـــــادَ صـَـــوْنــاً لاســـــمـِـهِ
تـَرَكـُـوا الـسـِّـفـاحَ فـلــم يـُصــبـهـُـم عـــارُهُ
مـــــن آدمٍ وإلـــــى أبــــيــــــه وأمــِّــــــــهِ
سَــرَاة ٌسَــرَى نـُـورُ الـنـُّـبـوَّة فـي أسـاريـر غـُـرَرِهـِم الـبـهـيـَّـة , وبـَـدَر بـَـدْرُهُ فـي جـَـبـِـيـن جــدِّه عـبـد الـمـطــَّـلـب , وابـنـه عـبـد الـلـه. 
---
The Author
ترجمة المؤلف
هـو : الـسـيـد جـعـفـر بـن حـسـن بـن عـبـدالـكـريـم بـن مـحـمـد ابـن رسـول الـبـرزنـجـي الـحـسـيـنـي ، ولـد سـنـة 1126 هـ بـالـمـديـنـة الـمـنـورة ، فـنـشـأ فـي حـجـر وَالـدَيـهِ ، فـحـفـظ الـقـرآن الـكـريـم و جَـوَّده ، و قـرأ عـلـى جـمـاعـة مـن الـعـلـمـاء . ثـم سـافـر إلـى مـكـة الـمـكـرمـة و جـاور بـهـا خـمـس سـنـيـن ، قـرأ خـلالـهـا عـلـى جـمـاعـة مـن عـلـمـائـهـا . تـولـى مـنـصـب إفـتـاء الـشـافـعـيـة بـالـمـديـنـة الـمـنـورة حـتـى وفـاتـه رحـمـه الله تـعـالـى يـوم الـثـلاثـاء مـن شـهـر شـعـبـان سـنـة 1177 هـ . ، و كـان هـذا الـمـنـصـب يـتـولاه عـلـمـاء هـذه الـعـائـلـة الـكـريـمـة بـدايـة مـن جَـدِّهـم الـسـيـد مـحـمـد بـن رسـول الـبـرزنـجـي الـحـسـيـنـي سـنـة 1103 هـ ، حـتـى كـان آخـرهـم الـسـيـد مـحـمـد زكـي بـن أحـمـد الـبـرزنـجـي الـمـتـوفـى سـنـة 1365 هـ .
More...
Refs
References & Links
Arabic text: Full text of Mawlid al-Barzanji
English translation: Er. Mohammad Ashraf Fazili (6th Rabi-ul-Awal 1433 AH/ 30th January, 2012)
---
Categories: Sira 🞄 Languages: English, Svenska, عربي 🞄 Mediatype: Text 🞄 🞄 Tags: Barzanji Mawlid, Mawlid 🞄 Post type: page 🞄 🞄
---
Related Posts