ضرار بن الأزور الأسدي
d. 14 or 18 H. (636/640 CE)
radiya Allah anhu
﷽
A great hero before and after Islam. He was present when the Muslims opened Damascus under Khalid ibn al-Walid (in 14 H) and died there. (Zsh)
Lineage
His full name: is
Dhiraar bin Al-Azwar bin Malik ibn Aws bin Jadhimah bin Rabia bin Malik bin Sha'labah bin Asad bin Khuzaymah bin Mudrikah bin Ilyas bin Mudar Bin Nizar bin Adnan al-Asadi
ضرار بن الأزور وهو مالك بن أوس بن جذيمة بن ربيعة بن مالك بن ثعلبة بن أسد بن دودان بن أسد بن خزيمة بن مدركة بن إلياس بن مضر بن نزار بن معد بن عدنان، الأسدي
Born sometime in the seventh century, Dhiraar was born to one of the Bani Assad chieftains, Malik bin Aws. His lineage can be traced to Malik, son of Aws, son of Jadhimah, son of Rabia, son of Malik, son of Sha'labah, son of Asad, son of Khuzaymah, son of Mudrikah, son of Ilyas, son of Muda, son of Nizar, son of Adnan al-Asadi. His family were among the first converts to Islam. After the Battle of the Trench, he was sent with Tulayha bin Khuwailid to their kinsmen, the Bani Assad, to urge them to embrace Islam.[4] He was known to his tribe as al-Azwar.
Burial Place
His death is disputed.
Martyred in the battle of Ajnadayn 14 H., or in the plague in 18. H.
Buried oug´tside Bab Sharqi, Damascus (disputed)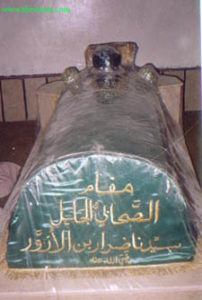 He also has a Mosque/maqam in Jordan.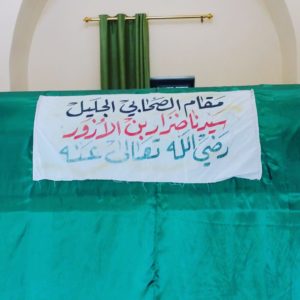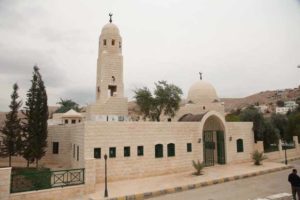 Refs
Keywords: Battle at Ajnadayn, The Naked Warrior
References: ZaSh, wiki
Photo f hismaqam in Damascus: yanabi.com
Damas Cultural Society © 2007
—-
More:
[gfh] Dirar b. al-Azwar al-Kindi, Khawla's brother
buried in Bab Sharqi, Mahallat al-Jazma'
Categories: Bionotes, Sahaba 🞄 🞄 Mediatype: Biography 🞄 🞄 Tags: 🞄 Post type: page 🞄 🞄
---
Related Posts
None found