Poetry of the blessed Sandal of Prophet Muhammad ﷺ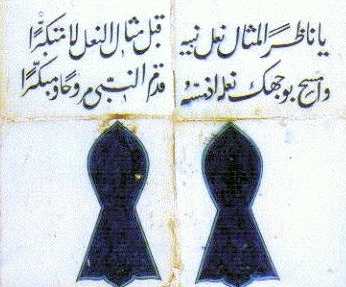 ﷽
English
O beholder of the image
of the Prophet's Sandal:
Kiss without arrogance
the Sandal's symbol,

And let your face touch
the Shoe that was touched
by the Prophet's foot
when he went out evening and morn.

Svenska
O du som betraktar bilden av
Profetens Sandal
Kyss utan högmod
Sandalens symbol,

Och låt ditt ansikte röra
den sko som berörts
av Profetens fot då han
morgon och afton gick ut.


عربي
…

Transliteration
Yâ nâzhiran li-mithâli na`li nibiyyin
qabbil mithâla al-na`li lâ mutakabbiran
wa-msih biwajhika na`lahu idh massahu
qadamu al-nabiyyyi
murawwihan wa mubakkiran.

Photos
---